Well, I finally went out of my comfort zone of gifts, clothes, and varying basic sewing projects and crossed into the wildly uncharted (by me) territory of quilting!
I joined an art quilt swap. This isn't a typical type of quilt like for a bed. It's smaller and is meant to be on display. I've never looked at fabric as a canvas before, more like a craft. So this was a whole new approach to creating for me.
And I loved it.
Here's the quilt I sent to my partner Goat Goddess: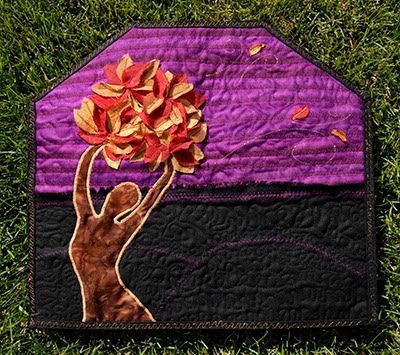 I noticed she liked the theme of fall colours, so I bought some sparkly gold and red fabric and cut leaves from it. I used a purple sky to represent a sun set. I got this wikid tye-dye fabric to use as the tree trunk, and traced a silhouette of a ballet dancer. It was kind of funny, because she ended up personifying a tree as well in hers, and this was completely unplanned! :oD
Here's some detail shots, click to enlarge.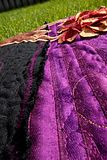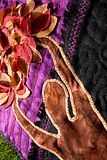 I love the gold thread that I used in the details, but it was a jerk to sew with. It actually started to fray in the needle. I had to re-thread the machine a few times for it to work. Very rude. :oS
This is the item I received from GoatGoddess: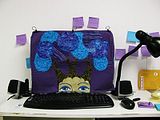 I can't get over how similar the theme was! I love the colours, it goes with my craft space really well. It is made to fit right over my monitor! She included hooks for it to hang up as well if I ever want to. The face is hand painted and there's little beads in it as well. She says she only went with my colour theme from my list, but I think she nailed "dreamy" as well. It definitely looks surreal to me! :oD
This was a great swap, and I'd totally keep my eyes out for another one that's for art quilts. It's a lot of fun!