Today was just awesome! My friend
Tara
came over and we spent the day collaborating on a painting. I had this idea of a silhouette of a person blowing bubbles, and wrapped around the bubbles, my favourite lyrics by Regina Spektor.
Tara
was so amazing with the paint, she does incredible work. She did most of the background. Admittedly, I only did the purple side of the background - and she showed me how to do even that! She has better blending techniques. I made the bubbles while she traced the face. Then we each coloured in and added to what the other did. She added some more colour to the bubbles, and I added more hair. Then we painted the edges black and let it dry.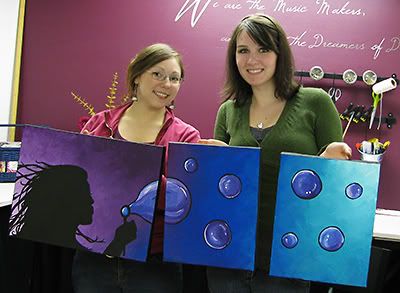 It looked great, but I was excited to add that detail that makes the painting whole for me. The words. When I hear these lyrics sung, it makes me inspired to really change the world. To take the good parts of yourself and to let them fly out of you without holding back - it's what makes this world continue to have a soul. I get so much feeling out of these lyrics. I feel they are truly sentiments to live by.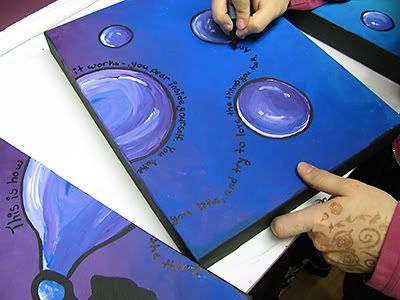 "This is how it works
You peer inside yourself.
You take the things you like,
And try to love the things you took.
And then you take that love you made
And stick it into some - Someone else's heart
Pumping someone else's blood.
And walking arm in arm,
You hope it don't get harmed.
But even if it does
You'll just do it all again"
-Regina Spektor