Mmmmmm, these are so inexpensive, so easy, but look so rich! Woot! I've included the recipe that was written, and a link to where I found it at the bottom! Try them, you'll love them!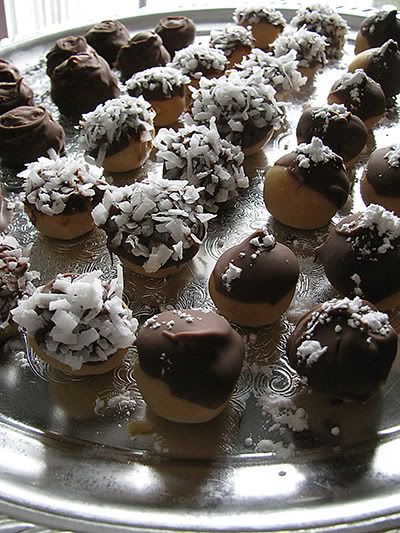 You'll need:
1/2 c. peanut butter
3 T. butter (or 'margarine') slightly softened
1 1/2 c. powdered (confectioner's) sugar
1 c. chocolate chips (I used milk chocolate & use more if you want to cover the 'buckeyes' completely)

Makes 2 dozen (24) 1″ +/- round candies.

—

Combine butter and sugar (I used a fork to 'cut' it in, but I'm sure a hand mixer would work a LOT better/quicker)
Add peanut butter and mix to combine.

Roll mixture into balls and place on a cookie sheet (on a piece of wax paper or foil.)

Refrigerate for 30 minutes, then place in freezer for 15-30 minutes - or longer if you've got things to do, etc. They'll be fine.

When you're ready to coat them, melt the chocolate in a double boiler or microwave (you'll have to reheat it a couple times if you use the microwave.)

If you like, dunk in coconut or sprinkle powdered sugar on top to make it pretty.

Retrieve the now hardened peanut butter balls, stick a toothpick in and dip into the chocolate - halfway or all the way, the choice is yours. Place on the same cookie sheet and continue until they're all done. Once they're dipped/covered, it's back into the fridge for 15-30 minutes and then they're ready to go devour!
Recipe From:
Here
Bon Apetit! ;o)