I made an owl mamma and a couple of babies from some scrap fabric I had. This was for someone as an extra surprise in a swap. They were sent with the pink circle skirt in the Friends of Craftster Raffle.
I actually really like how they came out! Owls are nice, not my favourite thing or whatever, but they seem to be soooo popular right now. I still like lil' lop-eared bunnies better, but to each his own! ;o)


Mamma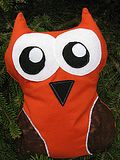 Baby One



Baby Two



Hanging out havin' a hoot!