I made this for an art quilt swap. My partner loves tattoos, and I really wanted to reflect this in the banner, plus her love for sewing!

The idea behind the banner comes from Ericas love of tattoos, traditional tattoo designs using swallows, and her love of sewing! My concept is that the birds are creating their own tatoo banner of Ericas name! They're busy making themselves a home nestled in the fabric.
Here's some shots of the process. Click thumbnails to enlarge.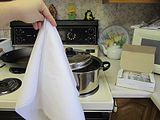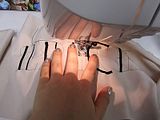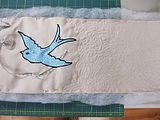 And here are some yummy detail shots!