I sponsor a child through World Vision, whose name is Selvi. She's from southern India. I've sponsored her since I was 13 - and now I'm 22 - to give you an idea of how long I've been her sponsor. I went to meet her last February. She's such a wonderful girl. She wants to be a teacher! I couldn't be more proud of her. She'll really make a difference in her community. I better not go on, I could cry typing this! lol.
In May she will be turning 18. I wanted to give her something special for her birthday this year, as it's a big one. I bought her a little wooden box with flowers and vines carved into it, and a small metal incence holder from an area of Toronto known as "Little India". I'm sending her some pics of this winters snowfall, and I also made her this little pouch with her name embroidered on it. I know she'll love them, I just can't wait to hear back from her! Unfortunately, I know this will take months.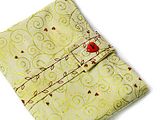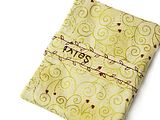 It's getting me worried, at the same time as being happy for her, that she's growing up so much. I don't want to lose contact with her after she's finished schooling. I really consider her to be my friend. I'd like to think that we are closer than just two souls wandering opposite sides of the world.
Happy Birthday Selvi, you're a bright light only starting to shine.