When my grandmother first got her wheelchair, I asked if she'd like to go out with me to the fabric store (that used to be around the corner) and pick up a little surprise.
I got a foam insert and told her to pick any fabric she wanted and I'd turn it into a new cushion for her wheelchair. She picked out this nursery-rhyme, country, old style drawing kind of fabric. Pretty out there, but she loved it.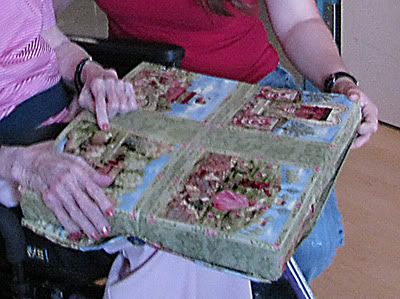 (Sorry for the bad pic... my dad took the photos for me. Bless him for trying!)
Somehow I lost this fabric and cushion for the longest time, until just a few weeks ago. Turns out instead of putting it in my scrap fabric bin (which was LOADED with useless scraps since I was a kid), I had put it in my off season clothing bin instead. I had to donate most of what was in there because it either didn't fit, or was just really not my style anymore. No wonder I hadn't touched the box in eons!
So as soon as I found it, I whipped up the cushion and showed it to my Nanna. She had completely forgotten about it as well, but loved the cushion anyway. Looks comfy!