Well Stella, you sure spoiled me! I love everything you sent. I love that they're bunnies, I love that they have an interesing way of being used, and I love that you gave me a needle book too! I've wanted one for some time. :o) I'm pretty sure you embroidered that bunny's face on the pouch too, but I'm guessing.
Here's the pics! (Click thumbnails to enlarge.)
The joke is "thumb bunny loves you" because you can wear it on your fingers!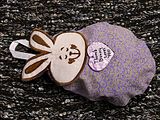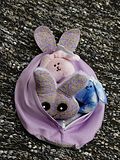 Here's my favourite pincushion, because it's cute with plaid and a tiny clear button heart! The fourth one has a velcro strap that you put on your wrist and you can take the bunny face on or off. It's really convenient!