A while ago I announced that Kellie and I were planning to go on a volunteer trip overseas. I made her a travel wallet. I re-designed it as I was just not satisfied with the first one. But once I showed it to her, it magically disappeared... I think she must have it already! Lol! Oh well, no pictures for the blog. It's made of the same fabric, but instead of a hard core, I used quilting batting. Like I did for mine!
Tada! It's wonderful no? I love the colours! This is the front.
And I'm actually even more fond of the back!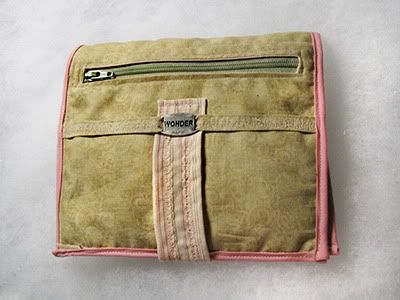 As you can see, I have now learned how to do lined zippered pockets. From a tutorial of course!! Heaven forbid I should use a pattern. *shudder* I added a zippered pocket to Kellies as well.
This is the inside. I included a special spot on the left for my passport. Buttoned in and safe. Underneath there is a spot for a notebook and a pen holder sticking out. On the other side there is room for plane tickets, and four card slots. Eeeee! I just love it! I should have learned to make these things sooner, it would have been great for India. So tailored to my needs!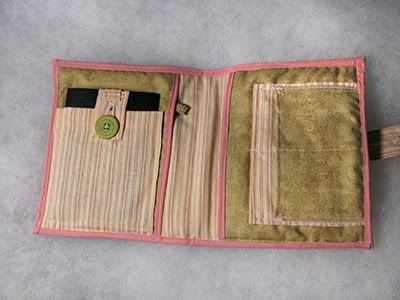 And here's a close up of the scrapbook accessory that I used on it. I love it, perfect for a travel wallet! I used some stitches from my new Janome sewing machine (love!) to make the ribbon.