Well, This is one squirrel who demands a little attention to his au-thor-it-AY!
The project was originally for a paper goods swap, but I'm not sure if I should send it. She distinctly said she didn't like pink and purple, two main colours I used. Mainly to draw further confusion at the angry squirrel, and to startle people who assume its girly look is all inviting. ;o)
She does love squirrels, and she said she has a penchant for cursing in beautiful art projects. These were my aims for it. I think I hit it, but I'm second guessing myself. If I were to send it, I'd want her to love it as much as I do. Because I really, really, really love this project.
Who could hate this tiny innocent creature??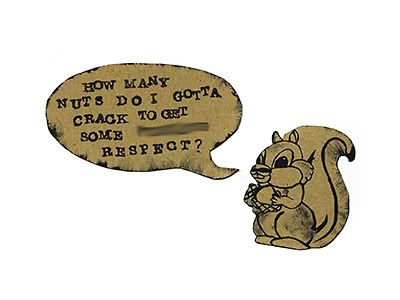 What I may do for her is the same thing, but in colours she will appreciate. Not looking forward to doing that squirrel again though, I painted all those lines by hand with a
safety pin
. That's right folks,
the tip of a pin
!!! Totally worth it for the effect in the end. No paintbrush would give me that look, and markers/pens just wouldn't cut the mustard.
Working Shots:
(click to enlarge)