Today in the mail I received my One Tiny Thing from Mirthfairy! Woohoo! She incorporated two of my themes, plus one of my prefrences.
For this swap, we were to exchange one tiny thing. You write a list of 5 themes for your partner, and you make something small based off of one or more of them.
My themes were:
1. Cameras
2. Travel
3. Cute animals (fav's are lop eared rabbits, turtles, and skunks)
4. Saris, Kimonos, etc (cultural dresses)
5. Regina Spektor (musician)
And Mirthfairy's were:
1. food/sweets
2. renaissance art
3. twee
(really cute things)
4. german folk art
5. birds
We both said we liked practical things. She made me an ipod cozy. It has a picture of a bunny in a kimono. How funny is that? Love it! Thankyou Mirthfairy, this is so awesome! And the fabric is swell. ;o)
(Back)
(Front)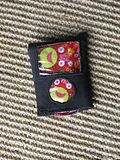 I based mine off of her theme of Twee and Birds! This needle book has multiple pages that matches the birds I embroidered on the front. I learned to do a buttonhole stitch for this. I've never done real embroidery before. I really enjoyed it actually. Never thought it would be my thing. I might incorporate it into a future project.
(Front)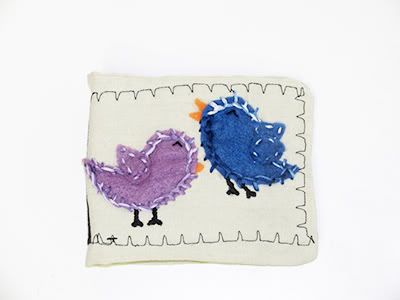 (Front and back spread)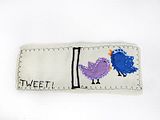 (Inside pages)